PANKRATION

PYX-LAX NEWS
"TWN EN OLUMPIA TO KALLISTON"
TON EN OLYMPIA TO KALLISTON
Athens, Greece - July 23rd, 2004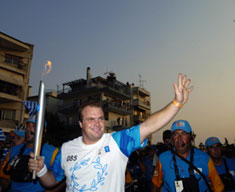 Almost 150 torchbearers run through the eastern Municipalities and through the centre of Thessaloniki, one of the four Olympic Cities
The Olympic Flame is staying overnight at the White Tower before continuing its long journey to the rest of Greece. It is the harbinger of the Olympic Games, which are set to open in 21 days (two days sooner in Thessaloniki), and an opportunity for citizens of every age, colour or creed to express joy and pride.
The Olympic Torch Relay continued from early in the afternoon until late in the evening to nearly all the eastern municipalities and the centre of town with some 150 Torchbearers.
The Olympic Basketball team members, who will soon be entering the courts in pursuit of a medal, all ran together at the last leg. They also lit the Altar together. Immediately following, the team's captain, FranGiskos Albertis, declared: "We are honoured to be taking part in the Olympic Torch Relay. It is an act that will help carry the message of the Olympic Games throughout the world. It is a special moment in all our lives. We are particularly happy that we were given the opportunity to run in Thessaloniki, the city which has embraced Basketball to a degree that we are all familiar with".
Theodoros Papaloukas also chipped in: "Running in isolation and the entire team running as a group are two different things. Personally, I will never forget these moments as long as I live. Taking part in the Torch Relay in Thessaloniki is the least we could do for the city that has offered us great moments and has often made us proud".
Their teammate Dimos Ntikoudis confided the thoughts that passed through his mind the previous day as he was watching Torch Relay video clips on television: "I was wondering what it would be like if I, too, had this opportunity - because an opportunity is what it is, perhaps a unique one in the life and career of an athlete, that cannot be traded for anything - to hold for a moment the Olympic Torch. And here it came: the moment when Greek internationals in Basketball also take part in the Torch Relay, and I confess that it is the greatest thing that has lately happened to me".
Kostas Tsartsaris added: "I was jealous - in the best sense - about seeing the Torch in the hands of our fellow human beings, and now I feel satisfaction and pride because we took part in the Torch Relay. I have pushed relatives and friends to have these moments videotaped, as a unique souvenir in my life".
Federation Coach Lefteris Kakiousis had additional reasons to feel moved: "The Flame of the Olympic Games carries a special message to the world: one of peace and sporting values that have been lost. It is a unique moment in an athlete's career, and a unique moment for whoever runs with the Flame to carry the message of Olympism. Even more so for myself who ran in Thessaloniki, the city where I was born; the city that distinguished me as an athlete and gave me so much excitement".
The Olympic Flame was handed to the members of the Olympic Basketball squad by veteran Footballer Giorgos Koudas, who crossed a distance of 300 m along Nikis Avenue on the waterfront. "I believe it was one of the most exciting days of my life. It is the greatest honour I received in my career", he stated. "The Olympic Flame represents peace and the coexistence of nations. It should be casting its light into the brains of all those who are ruling the world. Hopefully the spirit of sport will become understood by all".
Among the Torchbearers who ran today was the highly popular Chinese celebrity actor Jackie Chan. He was friendly and enthusiastic about the opportunity that was given to him. "I am one of 1.3 billion Chinese and I was selected to run in Greece as a Torchbearer. It is the first time I come to this country and I find they know how to preserve their heritage. I saw Thessaloniki from the castles and I was impressed. It is very important that the Games are returning to their birthplace. And it is equally important for me that the next Olympic Games will be held in Beijing. It is a special honour and I feel proud to have run in Greece"
Jackie Chan has played in more than 100 films to date, including 'Taxido', and 'Last Towers'. He is presently filming another movie in China titled 'The myth', and he skipped four days of shooting to be a Torchbearer in Greece, where he is a guest of Coca Cola.
Welcoming the Flame, Thessaloniki Mayor and veteran athlete Vasilis Papageorgopoulos said: "We Thessalonikans are today welcoming with respect and dignity; with awe and grandeur; with humility and devotion; with joy and emotion, the Flame that has, at last, shone on our own Games". He added: "Greece is offering mankind the best and safest Olympic Games. It is the result of a national effort and this is how we should face the national debt we owe to the ideal that is being repatriated, and to the international challenge for the rebirth of Olympism along the lines of the ancient Greek spirit".
The Olympic Flame passed through all the historic neighbourhoods of eastern Thessaloniki. It passed through Kalamaria, Panteleimonas, Karabournaki, Aretsou, Ano and Kato Toumba, Harilaou, and then reached the city's commercial district by way of Botsari, Agiou Dimitriou and the Kaftantzoglio area.
Olympic victors, old and new sports legends, distinguished citizens and simple folks all formed part of the chain of Torchbearers, confirming the Olympic Torch Relay's main slogan and message: 'Pass the flame - unite the world'.
Wrestling Olympic champion Panagiotis Poikilidis expressed his pride at carrying the Olympic Flame, which, he said, "is a symbol for rapprochement between peoples".
Paralympic Champions Association President Simos Paltsatinidis noted, "It is a particularly beautiful emotion for a disabled athlete taking part in the Paralympic Games (discus throw) to become a link in the conveyor belt of the Flame of peace, this great event uniting peoples."
Veteran footballer Koulis Apostolidis, having run with his nine-month-old granddaughter, remarked, "I ran filled with peace. That sums it up."
Another veteran football great, Kostas Aidiniou felt fortunate and happy for having carried the flame. "My selection as torchbearer has been a great honour to me," he said.
Veteran footballer Konstantinos Kouis also regarded as a great honour his participation in the Torch Relay, "a part of the Olympic Games" and wished for the Games to be "crowned with absolute success."
Vassilis Chatzipanagis, with visible emotion, thought back of 1976, when before his coming back to Greece he played in all preliminaries with the former Soviet Union Olympic team. Yet he didn't take part in the final, when his fellow players won the gold medal. "At least I now have the chance of carrying the Torch," he said.
Konstantinos Beis of Kalamaria, was Taekwondo coach at the Barcelona Olympics, where Morpho Drosidou won the bronze medal, an a technical advisor in the Sydney Games, when Michalis Mouroutsos went away with the gold. A professor of Physical Education in Thessaloniki today, he wanted to carry the Flame so that he would not be absent from the Athens Games.
Anastasios Antoniadis from Veroia, was a member of the national ski team from 1984 to 1990, distinguishing himself in Greece and abroad in world and Balkan championships. A Torchbearer in the Calgary Winter Olympics, he realised his dream of carrying the flame again.
Scientists and intellectuals also ran side by side with sportspeople. Ioannis Antonopoulos, Dean of the Aristotelian University of Thessaloniki, is a case in point. For him, "the flame is the good side of human history, as it is a symbol of all that is good in creation, that is culture, knowledge and peace." National Transplant Organisation President Paskhalis Keskidis took part in the Torch Relay for different reasons. "As a transplant recipient, I hope the horizons of all people broaden with the light of the Torch," he said.
Evangelia Neokhoritou, from Pylaia of Thessaloniki said, "I have striven for the best all my life. I gather up strength and I run, for myself and for my future. There is no reason why I shouldn't run for my country as well, drawing mental strength from my taking part".
Others again, decided to participate in the Olympic Torch Relay in order to be able to say, "I was there too." That was true in the case of Thomas Sidiropoulos from Pylaia.
The Olympic flame passed earlier through Thermi, where the altar was lit by painter Triantafyllos Iliadis, a full member of the World Union of Disabled Artists. Iliadis has been awarded many prizes both in Greece and abroad, owing not only to the artistic value of his works, but to his dynamic life stance that is a testament to human willpower as well. Being disabled in his forelimbs, he yet hoisted the Greek flag unaided.
"It is a special honour for me to be given the right of hoisting the flag, beside the sacred flame of Ancient Olympia. I hope that this flame warms cold hearts, reason prevails and peace reigns supreme in the world. I wish this wholeheartedly," he said.
Mayor of Thermi Theodoros Papadopoulos stressed that all of us "receive this symbol of all values and culture created by man on this planet. All of us from beautiful and historic Thermi join our hopes to those of all people of this earth for a life replete with values and ideals and a better tomorrow."
This Torch Relay was marked by the presence of those who had filled Torchbearer applications and were not selected. They formed a human chain along the streets the flame passed through.
During today's course the flame covered a total of 162 kilometres, carried by 200 runners.
The flame continues its course tomorrow from Thessaloniki to the ancient city of Dion, passing on the way through Pella, Giannitsa, Alexandria and Litohoro, covering a total of 177 km with a participation of more than 250 Torchbearers.
The long journey of the Olympic Games began more than 2,700 years ago. Records of Olympic history show that the ancient Olympic Games were held in Greece as early as in 776 BC. It was then that the basis of the Olympic Movement began to evolve into a philosophy of life: exalting and combining the qualities of body, will, and mind in a balanced whole. Out of this philosophy the Olympic Ideals were born, placing noble competition, sport, peace, culture, and education at the very core of Greek civilization. In 1896 the first Modern Olympic Games were held in Athens, Greece, and since that time have been on a journey around the world for more than a century. Now, at the dawn of the 3rd millennium, the Games are returning to the country of their birth and the city of their revival. In 2004, Greece will be called upon to empower the Olympic Movement once again, placing sport at the service of peace. The 2004 Olympic Games will be held from 13 to 29 August 2004. The competition schedule includes 28 Olympic sports that will be held at 37 venues. The emblem of the 2004 Olympic Games was unveiled to the public on 30 September 1999. The design was selected among 690 entries submitted to the international competition by 242 candidates in 14 countries.
The ATHENS 2004 Olympic Games emblem is a wreath made from an olive tree branch. It represents the four values of the 2004 Games – heritage, participation, celebration, human scale - in a uniquely Greek design. The olive wreath or "kotinos" is one of the legacies of the ancient Games and was the prize awarded to Olympic champions. The olive tree was the sacred tree and symbol of the city-state of Athens. The wreath has the shape of an open circle; it is an open invitation to humanity to participate in a common endeavor, the Olympic way of life, through the greatest peaceful competition of the world. During a press conference held in Prague ATHENS 2004 President Gianna Angelopoulos-Daskalaki and HOC President and IOC Executive Committee Member Lambis Nikolaou presented the medals for the 2004 Olympic Games. The main feature of the medals is the Greek character shown on both sides, since their basic side has been changed for the first time since the Amsterdam Olympic Games in 1928. This is of particular importance, as from now on all Olympic medals will reflect the Greek character of the Games as regards both their origin and their revival. "Right from the start of the competition for the medals," the President pointed out, " our aim was to modify side one of the medals, and to include Greek elements in it –elements that would highlight the close connection between Greece and the Olympic Movement. Therefore, in the official announcement of the competition we asked candidates to include in their design the "Nike of Paeonios" and the Panathinaikon Stadium." Goddess Nike was worshipped as the personification of victory in the stadium as well as in the battlefield. Zeus sent her to earth to crown the winners. Historical research has showed that goddess Nike was always represented as "winged", full of movement and dynamism, descending from heaven either to sing praises for a victory, or to offer libations, or to crown a winner. On the medals awarded to Olympic athletes from 1928 until the Salt Lake Games, goddess Nike was seated, holding an ear of corn in one hand and a wreath in the other. The second element of side one was the exterior of an arena that resembled the Colosseum. "Since goddess Nike would fly into a stadium to crown the best athlete, we concluded that it was best to represent the interior of a stadium on the medal," said ATHENS 2004 President, and she added: "For the Athens Olympic Games medals, we selected the Panathinaikon Stadium where the Olympic Games were revived in 1896." Side one of the medal will also include the sport in which the The most popular event in Greece was the Marathon which is the course run by the Athenian soldier from the battlefield of the same name to the center of the city where he announced the Athenians victory over the massive Persian army and then died on the spot. The entire population of the city lined the streets and were rewarded when local favorite Spyros Louis won the race. That evening the city was alive with light and music as the Athenians celebrated their victory in this race and in other events. The first winner of the modern Olympic games was an American student named John Connolly who paid his own way to Athens and won the triple-jump.
APAF- February 1st, 2002
The American Pankation Athlima Federation based out of Fort Lauderdale, Florida, USA, recently had it's quarterly board meeting. Upon the agreement of the board accepting resignation of Grandmaster Jim Arvanitis (Ex-President) of APAF (for personal reasons not pertaining to the federation), the new president again will be the founder of this federation - Kratios Professor Vasilios Katsaitis. The new structure will consist of an Annual Congress, Board of Directors, Committees, Technical Committee, Referee Committee, Historic & Research Committee. The new Vice President will be Jason Rodrigues. Treasurer - Gina Katsaitis, Secretary - Carmen Katsaitis, Legal Council - Mr. John Iannou, Technical Advisor - Kratios Professor Vasilios Katsaitis, Referee Committee - Mr. David Portolatin, Tournament Circuit Advisor & Television Media - Mr. Howard Bailey. National and International Seminar Director - Mr. Nick Nikitas. Mr. Tasos Anastasiadis was voted to be the head of the Hellenic Committee. Youth and Parent Advisor - Liz Anastasiadis. All the members and associates are now looking forward to bringing America the best in Pankration! One of the key points that President Katsaitis said was that "It's not time to sit and wait and lose time. It's time to work to make the dream become a reality. And soon the whole country will be running Pyx-Lax Rassein Pankration tournaments. Remember let the young people come close to us, they have the energy, and the younger closer to the older for they have the experience. Now each of us know our job and our responsibility. Let's feel the Hellenic spirit of the martial arts and the American Pankration Athlima Federation will get the job done. ERRESTE!"
To be a teacher, but a teacher to be able to reach the truth about what you are teaching to be realistic, you can't use all the martial arts styles and you say that you have created one, it's not logical. That's like saying you can take all the rivers in the world and connect them all to make one river, again it's not logical. Because then you would only have one river again. The point is that all styles have something from their beginning to their end - the way it fits the size of your mind and body, your flexibility and your courage. It's all about how much faith and trust you have in your teacher, and how serious and how far the student is willing to take and train. My students have asked me the following questions even from day one: What is the best style that there is? If you train in two styles will you be better if you only trained in one? If you have two black belts are you better than if you only had one?
And so on and on. These questions come from all ages of students that are beginners and are always the same. How do I answer them?
I answer with the same Greek Humble philosophy that I have always had.... "The best teacher you can ha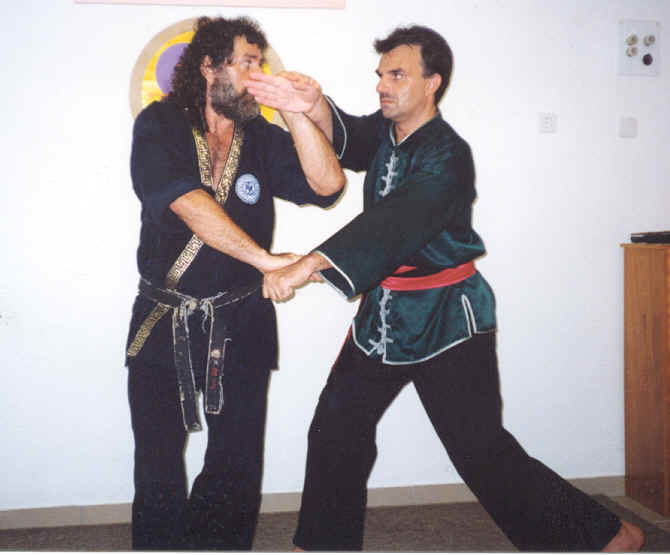 ve after I teach you is yourself".
A few days ago after class, the same questions were brought up again about different styles and fighting. One of my students, Pankratista - David Portalatin knew my answer and gave the same answer to one of my new students. He translated it in Spanish with another Pankratista student Jaime Herrera and this is the way it is said: "El mejor maestro que tu puedes tener despues de mi, eres tu mismo".
Photo: Kratios Master Vasilios Katsaitis on left with Sijo Professor Bill Drougas from the Academy of
Arta, Greece Martial Arts both are exchanging fighting techniques
My point is that you should stick to the style that you have decided to grow and train in and don't try to be like animals that fight in a cage and create a new economic market for the promoter to cash in on. Take your time - listen, practice and learn and become a true spirited martial artist and not (mumbo jumbo parla pipas). When and only when you are ready, you too will be able to enjoy the true fighting arena. And the only true great fighters, yes they meet a lot of great teachers with different opinions, but stick to only their own teacher and they complete their training with "aftodedaskaleeah" (personal training).
And take my advice, the good teacher is the teacher that doesn't want to see his or her students hurt. They don't want their students to fight unless they know that they are ready. Because being "hurt" comes in different ways. Not only losing the fight, they could end up paralyzed, in a coma or even dead. Besides to know how to fight, you have to be able to take the fight and to be strong in the martial arts means you are ready. And don't be a "wiseguy".
The teacher that spends time in different ways educating discipline, humility and courage will always be the teacher, the sensei, the sifu, or daskalos from the heart. And this is always a hard job. Nobody puts a gun to our head. We made the decision to become martial arts teachers and with that title of Teacher, no matter how you want to say it, comes with the responsibility and teaching the future martial artist.
The good student is not just the one who has a strong kick or punch, this isn't enough - but how good they listen to you, your advice, how they show respect and knows how to teach what his teacher has taught him to others. He has to learn how to take over - the humble way in the school, and to be a lion in the palestra (ring).
Whether he loses or wins, he is able to hold his head up and walk away accepting his defeat and also victorious that he fought the fight.
I know, I know, you can't find these things at the 7-Eleven. How many great fighters do you know? Of course, they have all lost a fight, but that is where their discipline is shown, one defeat doesn't mean they lost the whole battle. Just remember this, no matter who you become, if you make the mistake and bite your opponent's ear because he's beating you....this is your end and you will never get up no matter who want's to see you up. You have crossed the line!
ERRESTE!
December/January 2000-01
PANKRATION TOMORROW'S OLYMPIC EVENT
This month's editorial is to answer and correct and bring the truth about the Hellenic Martial Art of Pankration. In the past few years, all of a sudden, Pankration is something new to attract fighters. Like I've said before, Pankration is not a Roman Gladiatior Fight. There are those who use the word Pankration not even knowing what the word means. They are centuries away from understanding the true teaching and meaning. These are like firecrackers that fizzle after a few seconds only to try to impress a few. Like I always say, "the man with one eye is the king of the blind." I personally have e-mailed people from around the world who use the word Pankration and asked them, "What does Pankration mean to you." A few of the answers: "This was something new to attract new students and something different to keep my old students in my school, after years of being in martial arts with my experience in punching, kicking, grabbing, and a few flipping techniques I incorporated it and called it Pankration, the Hellenic martial arts."
I thought that that was a very honest answer, but this isn't enough. Another e-mail read: "Pankration is the All-Encompassing Power." That answer was not enough for me. I emailed him back and asked him to give me more information about how someone could teach this all-encompassing power from step alfa to omega to acheive this great power.
The gentleman that he was, he answered me back and said: "I don't teach from the A, I pick the fighters that are already at Z and I make my own rules and I call them Pankration men."
I respect his comments, but that's like telling me that some boxer picks up a Samurai sword and all of a sudden he is a Samurai.
Another email came from a 15 year old student who trains Pankration in Chicago Illinois. First, I would like to congratulate this young man on his comments. He seemed very knowledgeable concerning Greek Mythology and Greek History. His mother is a professor in a university teaching Greek Culture. His comments: "If you speak about Pankration, you have to know first of all how to pronounce it the right way. If you don't pronounce it Pan-Kra-tee-on (Pankration), it loses its meaning. Second, you can't find Lagdamis from Sarakouses in your backyard, he was one of the best ancient Maheetis -fighters- Pankratistas who was in the 30th Olympic Games in 648 B.C. I am training and hope to be able to compete in Athens 2004 at the Olympic Games, because my school is federated with The Hellenic Pankration Federation."
I want to wish his good luck in all his endevours.
I would like to stress once again, as I have in the past, Pankration will not be official in the Olympic Games in Athens 2004. There might be tournaments like a recent World Tournament Event in Lamia, Greece, promoted by Mr. Panayiotis Koutroumbas, but that's all that is was, only a tournament, not associated to the 2004 Olympics. Maybe by the year 2016, all these people who are in charge of the Hellenic Federation in Greece will have stopped having court meetings. They take one step forward and 10 steps backwards.
In my school, I already have a group of students and parents that are planning to attend the Olympic Games in Athens, 2004, and will compete in a tournament there a few days before. This doesn't have anything to do with the Olympics themselves. I am not going to lie to my students and tell them they are going to compete in the Olympics and then turn around when we get there and tell them it was a tournament in the same city as the Olympics, the people that are the captain's at the wheel are guilty of this.
When I heard that these kinds of stories were going on, I became very disappointed, but not surprised. This is the reason that Grandmaster Jim Arvanitis and I, after squaring away all of our differences, combined our forces and created from our hearts, The American Pankration Athlima Federation, to benefit those that really want to experience what a true Pankratistas is like, whether it be a child or adult and be like the ancient greek athlete that the young boy was talking about. The APAF is the first original and traditional federation in America teaching the Orthodox Pankration and trying to bring Pankration to the Olympics next time it is held in the USA.
We only have to remember like leaders handshakes, what our goal is. Not to be egotistical and keep everything to our own and lie to reap personal benefits, but to work together to see our goal accomplished.
Any difficulties we may find along the way, we have to be like the Spartan's said: "Pygme (fist and unity), and Power," and not destroyers of our students dreams to one day be in the Olympics.
The reason I personally asked Grandmaster Jim Arvanitis to be the President of APAF is that I believe he is the right man with the courage and knowledge of Pankration and together with our other associates to bring Pankration to the next USA Olympics and I support his suggestions as Vice-President of APAF and a fellow Pankratistas-Karateka. I don't want to offend or upset anyone. I know you have the right to run your own website. Don't promise anything you can't deliver. If someone has an opinion please email me.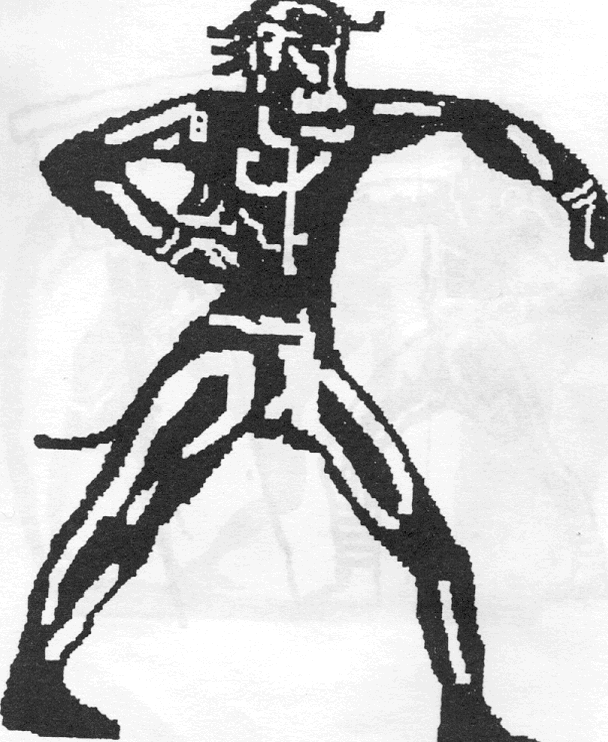 This picture from 1700 B.C. in Crete demonstrates an athlete training
to increase his balance.
June/July 2000
KATSAITIS PANKRATION PAN DOJO
What is Pan Dojo? Pan Dojo is the name of the Pankration karate school. Pan is a Greek word meaning a complete unity in whatever you are describing. "The top or maximum potential". And dojo in Japanese means "school". Pan Dojo Pankration Karate School-Why do I use the word pankration and karate in the name and teaching system of my school?
You have heard school named "Dojo Koon", Dojo is Japanese and Koon is Chinese.
Does this combination bring together Japanese and Chinese martial arts? Most of the time, yea. Some of the time these two terms are used together for those that do not know one word or the other, when they see the two together, they might understand one and not the other, what they do understand is that it is a martial arts school. At the first oriental school I trained in, my Sensei, Anko Kua named his school, Dojo Koon. In the beginning I didn't know what that meant, I thought it was the name of the school.
As I became smarter, I asked what was the meaning of the name of the school. "Why is it that we are practicing Shorin Ryu karate and you are using a Chinese name for your school?" I asked.
He looks at me and with his friendly smile he answered, "My father is Okinawan and my mother is Chinese. I didn't want to leave anybody out". After some time, I found out the real reason why. In the Republic of Singapore, there are many Chinese living there and so that they could understand what was being taught there, the word "koon" was added so that they could understand that this was a martial arts school. My father and mother are not Okinawan or Chinese, both are Greek, the reason I use Karate is because my martial arts training and teaching has been going on for over 30 years. The meaning of karate is "Empty Hand", fighting by using your hand with no weapons… Pankration is another word to symbolize "naked hands" as expressed by the Greeks. Meaning fighting with no gloves and no weapons. What's the difference between the two? One is the oriental martial art and the other is the ancient Hellenic martial art.
Pan-kration- Pan-Mahia same meaning but different words. Both express the Greek Martial Arts, one in the same.
Mahia means fighting, combined with Pan refers to combat that incorporates the use of all aspects of pankration. Pankration means all encompassing fighting power. The style has many branches that form the complete Pankration (self-defense fighting) Apaly.
My explanation to my students about Kratios (A title that can be held only by the founder and leader that holds the highest degree in thy system. This title can be passed down to the person that the current Kratios, Master Vasilios Katsaitis, deems eligible), Pankration, Pyx-lax, is this:
Pankration is a tree, Pyx-lax is a branch.
Kratios is the farmer. The students are the fruits.
Within them lies a seed.
They plant the seeds, to spread Pankration to
the four hemispheres of the Earth
January/February 2000
HAPPY MILLENNIUM
I would like to start my editorial by wishing peace to all mankind in the New Millennium.
Honestly I was a little worried about entering the year 2000 with all the talk that was going on, but here we all are with new hopes and new dreams and if something happens it might happen in the year 2001 or 5001 because good and bad things happen everyday. In my opinion, life is like pointing to a new born child and saying that that child is going to die, eventually of course he's going to die, but will it be between him being born, or when he's an old man. This isn't a prophecy it's just Mother Nature. It's not that I don't believe in prophecy but prophets come everyday, like miracles happen everyday. Some people said that the end of the world was coming by the end of the old year and the beginning of the new millenium (on New Year's Eve, Pacific Time). Because nothing has happened so far, people are in disbelief. That's like if I tell you an earthquake is coming tomorrow. And the earthquake doesn't hit in the morning or afternoon or the evening and by evening you are in disbelief. And it hits before midnight when you are sleeping in peace. All day you were preparing and agonizing and by nighttime you had lost your faith and you're caught off guard. Now am I telling you that you have to be on guard 24 hours a day or have the attitude of who cares when it comes it comes?
Love and respect and be proud as a human being should, the way God has created you. Don't bow and kiss someone's feet for mercy. Because when bowing you are in the right stance for someone to kick your butt. (Bowing to someone to show respect is respectable and I believe that you agree too.) To bow out of weakness is shameful to God because he created humans in his own image. If you run out of fear and panic it's like looking into the lake and seeing your face and when you move the water your face becomes cloudy. This is how I see people in today's society. Take the martial arts man, you or I, and we lose our school and our students that we have taken years to build, we think that we have lost everything. In my opinion we haven't lost anything. What we have gained is more experience, more knowledge, more recognition and years of training and teaching that no one can take away from you. Now remember you started with no experience, no school and no students. You can now rebuild easier than when you started with faith and the belief in yourself.
From the time that God created the earth and let people be guardians over it, good and bad things have happened. If you think that death is the worst thing that could happen, your wrong, the worst thing to happen to you is for you to live with your own fear and to say there is no God, that's like saying you don't exist. Treat this year as another chance to improve mankind, besides this is an election year and keep your mind open, and your heart with your family and friends. And God willing December 8th and 9th, 2000, The Florida Hall Of Fame Cosmopolitan Events and Banquet will be held.
I wish you once more, peace, love, unity and if you miss someone make the first step to go back to him or her. It works. Start your millenium with something impossible in your own mind. Because on the Greek side of my mind, God is always there. ERROSO!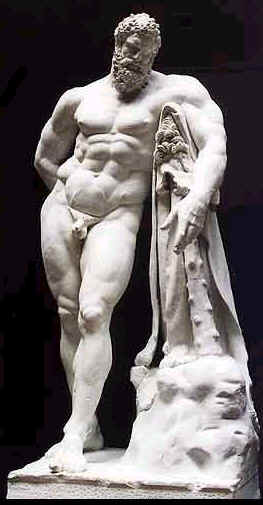 HERACLES
Behind his back he is holding the Golden Apples of the Hesperides
September/October 1999
BACK TO THE GOOD OLE U.S.A.
Summer is over. If you were on vacation you know have to come back home to the everyday. Family, work, bills, and planning your budget for the next vacation. Don't forget to drop your first dollar in the piggy bank now. Okay, let's start with you. Where did you go, and did you have a good time? Oh, you want to start with me first, okay. I'll start with my trip to Europe. Without visiting Greece it would not be a trip for me. Besides Greece, I went to Sicily, Italy and on the other side Alexandria, Egypt. My trip was mixed with business, pleasure, and good food, including lamb. I visited my friends Gioseppi and Dino. They are Matsubayashi Ryu black belts and we trained the old system together and we also trained my new system of Pankration (Orthostadin Pyx-Lax) system, which included basics, forms, and philosophy of the system. In Greece, Peloponeso, I visited my hometown Patras. First, I said hi to my best friends, my mother, and my father. I enjoyed a some good wine and my mother's great food. I also met up with friends and worked with old students and instructors. One of them was Master Panayiotis Pappatheodoropoulos, system Okinawa-te and Pankratistas and member of the Hellenic Pankration Federation. Also Master Theo Kotsopoulos, Shorin Ryu and Pankration Orthostadin Pyx-Lax and also a member of the Hellenic Pankration Federation. Sensei Panayiotis Mantekis - instructor of Taekwondo and kickboxing. We spent many hours discussing and planning concerning Pankration Orthostadin Pyx - Lax which was supposed to be in the 2004 Olympics, but after a few disappointments, Pankration won't be in the Olympics, but were hoping for the year 2016! I'm saying this date, but some people believe the date may come earlier. However, because I am being realistic, I believe the time will come in the year 2016. Hope never gives up. Now the seed is planted in the garden and we will see how long it will take for the tree to grow. My visit to Egypt brought me my good friend Grand Master Petros Theodorou-Pankratistas, who has over 250 students and teaches the system Platamonas (a Spartan system) and I gave them a seminar in Pyx-Lax. He is also the son of one of the greatest wrestlers, an Egyptian-Greek, Panos, who was nicknamed The Greek God. Also another good friend Ali Saat, a martial arts talk show host who practices Jiu-Jitsu, Pankration and a student of Grandmaster Theodorou for over 25 years. Returning to my hometown, I spent time with my childhood friends (that do not have any knowledge of martial arts), watched a few European League soccer games, went to the beach a lot, received a nice tan and then ventured to Arta, which is in central Greece. I visited Grandmaster Sijo Vasilis Drougas whose system is Vi-Tai Jug Fu Pai, a Kung FU System. He is also a professor of a University called Ioanina. My two day visit went quickly as we trained and I was able to see first hand his good martial arts training and that all the good things I previously heard about him were true. Sijo Drougas will be attending The Florida Hall of Fame Cosmopolitan Events and Banquet in November and will demonstrate a form from his system. I also cannot forget my good friend and buddy, Grandmaster Simeon Zahopoulos, we spoke regarding Pankration and the WAKO Kickboxing competitions. During my final day at the Athens airport, I met up with Mr. Lazaros Saviidis. During our 3-hour conversation, I could see the look of disappointment on his face as we discussed that Pankration would not be an Olympic event, however he said that there would be a Pankration demonstration before the Olympic events start in 2004, in Olympia. Mr. Saviidis will also be attending the Hall of Fame as well as Grandmaster Simeon Zahopoulos, Instructor Panayiotis Mantelid, Grandmaster Petros Theodorou, Mr. Ali Saat, and Mr. Dino Pellucci of Sicily. I returned to my wife's hugs and family at the airport and upon returning to my school and students, there were tons of faxes in my office with attachments concerning who does not like who and who did what to who, however the faxes did not have any names on them. I knew then that I had returned to Florida! I do not have any comments on the matter, but if somebody really wants to say something and take responsibility for the matter, please sign your name to it. That is why the Florida Hall of Fame recipients are spoken about first, accept their award, give a speech, and speak about themselves so that everyone in the audience knows who they are. So if they were going to lie, they would have to do so in front of over 300 people. They are not simply handed a plaque so that they can return to their seats without anyone knowing who they are. Personal problems among yourselves should be kept among you. If someone really does not deserve to be inducted then they will not be inducted. That is why there is a board with board member. Now I' m back and I am concentrating on my school, my students, and The Florida Hall of Fame Events in order to make this event one to remember in the new millenium. Now you can tell me about yourself and your summer and please sign your name! ERROSO!
November/December 1998
IT'S NOT NON-FICTION IT'S THE TRUTH
In this issue I would like to bring my readers to a time and date many years ago…. To see this story in your own eyes, bring your mind 2564 years in the past…. It is now 564 BC the 54th Olympic Games. Understand that this is a big responsibility to transfer this story from the Ancient Greek language to you. This was a true moment in history and will stay for thousands of years to come…It is afternoon and the games of the Olympics are continuing, the spectators are immersed in the different events going on. The sum is at its highest point and its rays feel no pain for the Holy Land of Eleion. A few meters away form the games (there is a break in events) you can hear the different voices of the spectators conversing and commenting on poems, philosophy, politics as they await the next event of their choice. Others are en awe of the great temple Olympus Deas (Zeus), the father of the Gods and the people. The people are commenting that those people who do not see his statue will die unfulfilled. Another person said that if the big God got up off his throne, he would be taller than the temple and go through the roof. On the other side of the stadium you can hear the waters running from the river Kladios and the sound of the breeze is like musical notes and refreshes the hot and sweaty spectators. In the distance you can see the valley of Kronios. Making the scenery of this all so beautiful. All around the great buildings, the trees with the sun shining on them giving them a golden color, the beauty of the quaint streets and especially the Palestra gave the athletes a spirit of a healthy mind and a healthy body to warm up before their events. Something has changed in the course of the events. All attention is now at another part of the stadium. There was no one talking as if the wind stopped to breathe. It was as if the Greek Gods had given the order as what was to take place. It was the 54th Olympic Games, 564 B.C., everyone was curious to see what was taking place. The stadium was full to capacity to see what history was about to bring to the Olympic Games. What was about to happen would be talked about for thousands of years to come. The sum continued to burn the sand of the scama (the area where the competitors compete) and still did not feel sorry for that holy place. Not even the small breeze from the wind could bring life to the tired spectators that were watching the events, however no one seemed to care about the extreme heat. In the midst of the burning sand, there were two giant athletes in body and soul that were incomparable to all others. After a long day of competing these were the last two to compete for the olive crown. Their bodies were shining with oil. They also had powder on their hands to help them not to slide while fighting. Nature, the Gods, and all of Greece were in agony over who would win. One of the men was called Arrihion from Figaleia. He was Eryxia, an extraordinary teacher and coach. He was mean, but was also a man full of knowledge concerning the secret techniques of Pankration. He sat on the eryma (sidelines) with the other team members. The techniques that were taught to Arrihion and the training he had made the spectators to believe that he would be the favorite to win once again. The games were about to begin. His opponent was from the city of Achaia. He had previous experience in competition, but this was his first experience fighting in the Olympic games. The agony of the spectators made them feel like they were going to explode. In the midst of the quiet, someone said that the God Zeus must have had a reason to have these two men fight today. The athletes took their places, the referee gave the signal and said Arxsthe (let the fights begin). The athletes moved in a circle, looked at each other, and tried to read each other's mind. They looked at each other straight in the eyes, each trying to change their fighting moves. Arrihion started using punches and low kicks trying to make his opponent drop, however this was not an easy task. His opponent had his own moves and was using his own skilled techniques for defense, while at the same time was attacking using kicks, fists, elbows, and knees attempting to make his opponent drop. This made the spectators anxious because they knew this was not going to be an easy fight for Arrihion to win. Arrihion changed his fighting technique and tried to grab his opponent to flip him over his back, bring him to the ground and gave him submit. But his opponent slid to the side before Arrihion had a chance to complete his grabbing move. This gave his opponent a chance to jump behind Arrihion and wrap his legs around his hips and hands around his neck in a strangle hold. This move broke the silence among the spectators and they began to shout. Someone said that Arrihion has put his head in the lion's mouth. The two fighters were so good that the spectators were holding their breath because now they did not know who would win the fight. The only thing that was moving were the two fighters and the referee inside the scama. Arrihion looked like he had met his match! His opponent was still locked on him and Arrihion was looking for a way to release the hold, he now understood that he was in a very difficult situation. His opponent was using a type of lock called Klimakizian with Meandrios Lavi (grab) meaning pihiaio aghein. Arrihion started to lose his eyesight because of the hold and started to feel that death was upon him. The only thing that would save him is if he could drop his opponent to the ground, however he could not do this. He knew that if he did his opponent would break his neck. With the little bit of energy he had left , he continued to move left and right, however the Gods played their own games. They wanted someone else to be the champion this particular year. Even as he was closed to his death, Arrihion did not think of giving up. In his mind he started to see images of his life passing by and the glory of his 2 past Olympic victories. He was remembering his teacher ad his first training of Pankration, his school, his friends, his hometown with broken walls from the past wars, he could see the faces of his mother, father, and family. He did not want to disappoint all of these people, he preferred to die as a hero, rather than live as a loser. His knees started to drop, his breathe was heavy, he knew that he was getting close to the gate of ADEE (the land of the dead). This made hem think of submitting to save his life. But the Niki (victory) in front of the big temple of Zeus saw what was happening and touched Arrihion's face and no matter whether he lived or died, he would be the winner. This could only happen in ancient Greece. On the other side, history already had its decision and wrote Arrihion's name in its list of heroes. He started to raise his arm to signal a submission. His coach and teacher Eryxia that was sitting on the sidelines got up because he knew what was about to happen. His voice was so loud that even Mount Olympus could hear him screaming at his student: (Kalon entafion twn en Olumpia mh apeipein)- "Kalon entafion ton en Olympia mi apeipein"- "Better that I bury you I Olympia than to have you submit."
It was then that hearing his coach's voice, Arrihion put down his hand and was prepared to die as not to disappoint his coach and his fellow athletes.
The spectators turned to hear the coach's words and quickly turned again to see what Arrihion was about to do. He could feel that his opponents left foot was starting to weaken. He still had a strangle hold on his throat. Arrihion stopped breathing. How long could he go on? The only thing that came to Arrihion's mind was to grab his opponent's ankle with his left hand and twist tit while also using the support of his right hand with all of the power he had left. At the same time he made his opponent feel pain and leaned to the left side. He dropped to the ground on his last breath and Arrihion died. He was raised to the sky where the Olympic victory was waiting to receive him. He was only sorry that he could not see what was about to take place…
Being so exhausted from twisting his opponent's ankle, making his opponent strangle his neck harder, submitted before Arrihion dropped dead. The referee knelt down and was exactly what had happened between the two competitors and announced that Arrihion was the winner knowing that his opponent submitted before Arrihion dropped dead. His opponent congratulated Arrihion with a hug and kiss, even though he was in pain and lost by submission.
The spectators in the Palestra started cheering and throwing their tunics in the air celebrating Arrihion's victory as his body was being carried out. There are no words to describe the feelings of the spectators as they celebrated victory and agonized over defeat.
(Kai nekros estefqh)-
Kai nekros estefthi-
"Death is crowned."
June/July 1998
IT'S NOT FICTION IT'S THE TRUTH
Before I start talking about Pankration Athlima, I would like to explain a few things from the internal soul of the roots of the Hellenic Gods from the abysmal depths of our earth. It is a priceless inheritance that you might not see but can still hear ringing in the sky and hearts of many. Like the wind that can't be touched, but can be felt. All martial arts styles are brothers and sisters and communicate with each other. Pankration is the father of all. A few years ago I started to relay this message and people thought I was a dreamer and thought I only followed Greek history and I was ignoring the outside world. As I have said before, I have never lost respect for any culture, traditions, or someone else's religion. Everything relates one to another.
Before I explain the aforementioned, I want to talk about my young friend, a Pankration Athlima student, Christos Damas. He is 18 years old and told me that he wanted to take me to a museum that I might have not heard of in Athens. He wanted to show me something, but wouldn't tell me what. On my travels to Northern Greece, I had a chance to pass through Athens and he took me to the museum. He showed me something in a glass box and asked me if I knew what that was. I asked what is it? the head of Alexander The Great? He said no, it's something older. I asked him to help me. He pointed to something written in Greek, English and French.
What was in the box was: A fisherman found a box over ten years ago between Kithera (a Greek island), and Peloponeso. The fisherman didn't know what was in the box. After he gave it to the Greek Government, they opened it in secret, and kept the secret for years. Then while working with American and European Scientists, they decided to let the secret out and display it in the museum. What was in the box?
They discovered this was over 4,000 years old, it was a manually powered COMPUTER! The letters that were on the keyboard was the Greek alphabet. The only difference was that this computer was not run by electric, but was hand cranked. astonished, I looked at my young friend and back at the box and my friend said to me laughingly: "Do you think back in those years a Japanese boat came by and dropped the box in the Greek sea?" my friend continued: "I know that today the Japanese make the best computers, because I have a Japanese computer in my home. But there is no one else in the world that has a computer from 4000 years ago in their museum." "What I'm trying to tell you is that maybe my 18 year old young voice can say to the Hollywood movie directors, don't stop in the Shaolin Temple, but continue to find the roots of the martial arts. I don't mean to be disrespectful to all the other beautiful martial arts styles and teachers."
he then continued and asked me if he would have told me there was computer that existed over 4000 years ago would I have believed him without him showing me. My answer was no. he said to me: "You are very honest sir. To prove something about Pankration, it existed before the first cataclysm of the world, (the 2nd cataclysm was Noah and the flood which happened 3400 years ago.) There was a 3500-year separation between the two. This means that over 7000 years ago Pankration existed by evidence of the cities found by archeologists." I agreed with my young friend and we discussed many other facts concerning Pankration. The truth is this, Pankration can no longer stay only in books or in history. Grandmaster Simeon Zahopoulos, from Kavala, Greece, in the 70's left the United States and went back to Greece. While visiting him I saw a sign in his school that said: "Olympics- 648BC-Kavala-1978." What that means is that Grandmaster Zahopoulos officially orchestrated the return of Pankration to the Hellenic World in 1978. Also Grandmaster Jim Arvanitis, in my opinion, was the first to speak out about Pankration through media.
Today the World Pan Hellenic Pankration Federation (International Pankration- Pyx- Lax), is working to uphold and keep Pankration through the New Millennium and not to only keep it in a museum like the computer.
The reappearing of Pankration is credited to Zahopoulos and Arvanitis by keeping the spark in the ashes. From this spark, I have taken the torch to show the world that Pankration is still alive.
I started the World Pan Hellenic Pankration Federation (International Pankration-Pyx-Lax) in 1984 in order to unite those together that are really interested in keeping Pankration alive. the history of Pankration needs to be included in its new return and the credit belongs to these two gentlemen. My contribution is spreading Pankration around the world and has developed the fighting system of Pankration Orthostadin Pyx-Lax (Pankration- an art which utilizes techniques of both the hands and feet, ancient greek kick-boxing which includes grappling), which is something that I am trying, with others, to incorporate in the upcoming Olympics- 2004 in Athens. We are not too close, but slowly and surely we will accomplish this. This is a difficult task, but nothing is impossible. Even if we do not succeed this time, we will continue to promote Pankration for the next Olympic Games. We are happy that Pankration is once again acknowledged as a great form of combat of the past. Using the support of different styles we will succeed. You don't need to be only a Pankration System follower to be a Pyx-Lax fighter. Today, all of Greece and Europe, including the United States and throughout the world display signs that say, Karate-Pyx-Lax, Judo Ro Jui-Jitsu-Pyx-Lax, Kickboxing-Pyx-Lax etc. . . All these individuals belong to the World Pan-Hellenic International Pankration Athlima Federation. Join the Federation and begin to teach and give seminars in your own school. Pankration is the style of the New Millennium and the spirit of the Hellenic world…
July/August 1997
The apple doesn't fall far from the tree… This expression was said to me by Mr. Nicholas Grambacher at the Welcome Dinner we had for Mr. Lazaros Sabbidis, Vice President of the Hellenic Pankration Federation Athlima and President of the Hellenic Archeological Historic Association.
When I expressed that all Pankrationists around the world should be associated and united as one where it all started- Greece, Mr. Grambacher's statement was made. And my reply was that there are a lot of apples that fall down next to the tree, but only the good apples can go into the farmer's basket because one bad apple can spoil the whole bunch. Sometimes my writings, my expressions and beliefs are taken in a bad way to some of my reader's ears and they have answered back to me with written letters and made phone calls. I can never say that any of them have been disrespectful only that they have their own opinion.
A recent letter that I received from Chicago from a Greek Gentleman, Mr. John Panou, was very short but to the point. He asked are you a Karate Man or Pankration Man? My reply to him (I know that he reads The Karate Voice) is that everything started from the God Zeus and everything finishes with the God Zeus. That's what the ancient Greeks believe. History shows that Karate came from Pankration.
I would like those that are interested to learn more about Pankration, or about the Federation and would like to be associated, there is information available to you after receiving information about yourself. You can write (no phone calls) to the U.S.A. Pankration Athlima at P.O. Box 5513, Hollywood, Florida 33083-5513.
I would like to thank Mr. Lazaros Sabbidis for coming from Greece to discuss all the programs, growth and future plans of Pankration including the unity of world Pankration and again Pankration will walk through the Olympic stadium because Pankration is the Olympic Athlima.
The Pankration student's training program includes hand and feet techniques- PIX-LAX and its weapons program include: Bow and Arrow, the Spear (Javelin), the Bo, the Sword, the Disc, the Sphere and rope locking techniques. The art of Pankration coincides with Greek Culture.
By practicing Pankration you open the door of knowledge of the Athletic Spirit. This doesn't mean that it's not a deadly weapon. This is the reason you see Pankration used in 2 ways, in warrior fights and in Olympic Games.
Through Pankration you can see Spiritual Disciplines, Physical practice and self-discipline, Mental and Body Balance, Skill of Concentration and Respect for others and to be a responsible person in life. Healthy Mind and Healthy Body.
And now you tell me "I'm sorry I can see that in Karate too or any other martial arts."
Who said you don't! I teach the same thing. Karate is only 400 years old. The Great Art came from the little tiny Island on the south side of Japan called Okinawa and Pankration came thousands of years ago from that country in the Mediterranean- HELLAS, Greece. Till the next issue…
March/April 1997
In this issue of The Karate Voice I would like to answer a few letters that I have received in the last few months from different states including Mr. Tom P. Smith from Florida, Ms. Lee Hung Carter from California and a few letters that I received from New York and Canada.
The question that was asked the most is what is Pankration and how does an American go about training in this art. Is it like practicing Muy Tai? Is Pankration like Karate, Tae Kwon Do or Kung Fu? Another asked is Pankration like Boxing or Kickboxing? Do you drop people down like you do in Judo or jiu-jitsu? How many schools in the United States teach Pankration? To answer all these questions and others that I have received, it would take a lot of time and a lot of pages to fill. Its like someone would ask you to explain to them what is Karate? Surely that would take up many pages and books to fill. Like I've said before, Pankration is one of the oldest forms of the beginnings of Martial Arts that you can name. Back in ancient times in Greece, Pankration came before Wrestling or Boxing. Kickboxing was then referred to as "PIX-LAX" meaning using hands and feet. Ancient Athletes believed that every sport was founded by a particular God. Pankration was believed to be founded by Hercules. The philosophy was if you didn't have some sort of weapon in your hand whether it be a sword, knife or bow it was considered to be Pankration fighting. Also in Ancient Greece when fighting in the army with your spear and shield against your enemy, if broken then you had to fight "empty hands" (i.e. Pankration). You can find Pankration was used by Hero's and God's from Ancient Greece like Hercules, Jason (and the Argonautes). And many Olympic Athletes such as Kleitomahos from Thevaios put those skills to use and won the championships in Wrestling, Boxing and Pankration. Kapros was another that won a championship of Wrestling and Pankration in the 142 Olympiad in 212 B.C. Also Aristoxenos from the Island of Rhodes won the championship in Wrestling and Pankration. Protofanis O Magnis also a Champion. These are just a few of the names of the honored Champions that have come to mind. Boxing, Kicking, Grabbing, Dropping and Ground Fighting Wrestling incorporated the old Philosophy to the defense tactics of Pankration. If you ask me what is Karate, I would answer that it is Pankration. If you ask me what is Boxing, I would answer that it is one piece of Pankration. If you ask me what is wrestling again my answer would be a piece of Pankration.
The reason these were separated was to make different sports. If someone didn't want to train the full program of Pankration, they could do either Boxing or Wrestling. This is why the Athlete Kleitomahos (mentioned earlier) won three different championships of Boxing, Wrestling and Pankration.
Today, yes, you will find schools that teach Pankration. Maybe not 100%, or it isn't called Pankration, or it is practiced rougher than it should be. I've traveled around the country and I've seen that today people have incorporated Karate, Judo, jiu-jitsu and Wrestling and put it all together and all it "Free-Style" or any other name the founder desires to call it. What I don't like is that anything one student knows, another student knows something different. There isn't a set system of learning. It's what ever you feel like training. Author Tetsouo Souzouki, founder of Ouanto Ryu Karate states in his book: "In Europe, Pankration is the number one martial arts technique, it is something that has everything inside. Everyone knows and there is no question that the martial arts started in Ancient Greece and was brought to India by Alexander the Great. In a European magazine called "Intern et" there was an article titled "The History of Savate" (French Kickboxing) it stated: "To find the roots and background of Savate Kickboxing you need to go all the way back to Ancient Greece and the ancient sports of the Olympic Games to find its roots called Pankration."
One of the biggest Japanese Martial Arts Masters named Masutatsu Oyama in his books titled "Advanced Karate" he states: "Pankration Fighting uses all the senses of the body to defeat your enemy. Pankration is the maximum likeness to karate." One more person's statement I would like to bring to your attention is the words of H.I. Marrou, professor of Asian History states in his 5th book in 1961:
"Pankration realistically and theoretically resembles Japanese jiu-jitsu."
There are hundreds upon hundreds of books, Masters of all styles of Martial Arts that don't have an ego and are intelligent surely know that Pankration is the root of all other martial arts systems. I can say that everyone took a little yeast and made their own cookie. Like today, the Greeks are using the yeast from their cookies to build Pankration again. And you can find a number of schools that teach Pankration in Greece and Europe. This is one of my big reasons I have great respect for Masters and Martial Artists from around the world no matter what style. Today, one of the biggest federation of Pankration is the Hellenic Pankration Federation and is the same as the European Pankration Union and the International Pankration Federation, and is associated with all 5 continents of the world and whose center is in Athens, Greece. The federation regulates the rules, the way Pankration should be taught and unites all nationalities to be free to teach Pankration. For more information about Pankration call or write to me at The Karate Voice.
Pankration will be an event at the 2004 Olympic Games in Athens, Greece.
My answer on where to practice Pankration in America; there are over 200 schools and some colleges that I know of in the United States that teach Pankration. No matter what the style is, the instructors have made time to teach Pankration. Pankration takes 6 years of practice, like you would need 3 years in Karate to obtain your black belt. Does it have it's own forms, yes. Does it have it's own system, yes. Does it have it's own techniques, yes. Continue to practice your martial arts skills and learn to fight like a PANKRATIONIST!