THE KARATE
VOICE
Flash News Around The World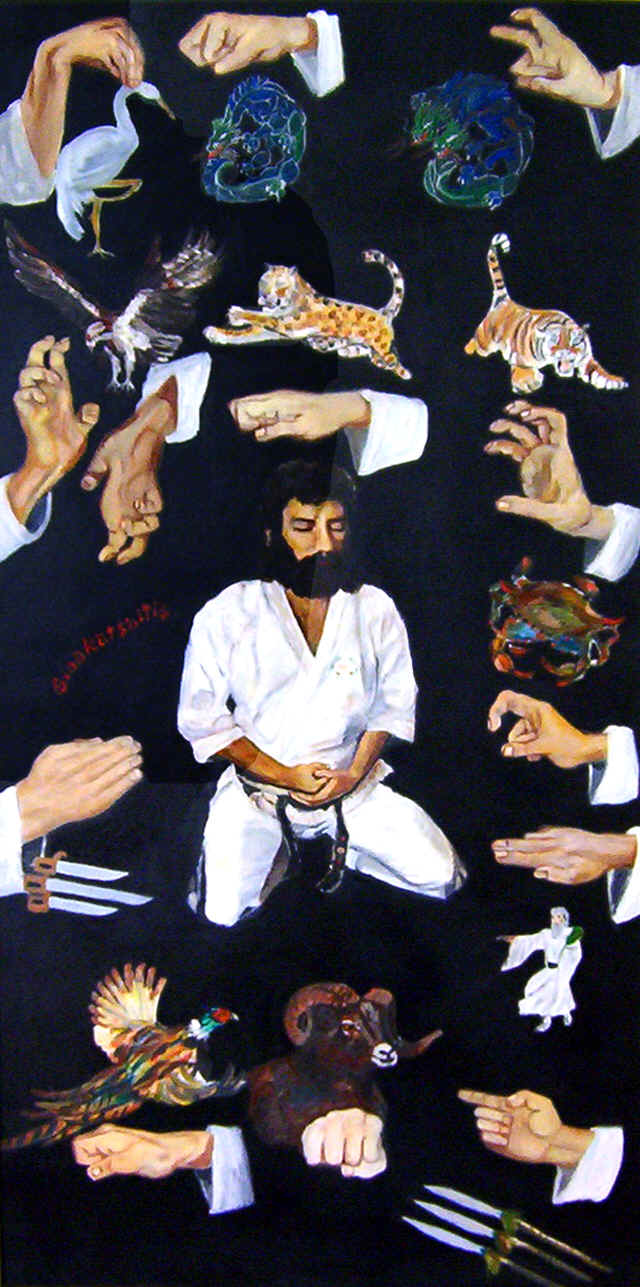 The Way Of The Hand Strike
Painting of Kratios Professor Vasilios Katsaitis
Painting By Gina Katsaitis
1-888-KRATIOS
E-Mail: karatev@msn.com
MARTIAL ARTS & BOXING SUPPLIES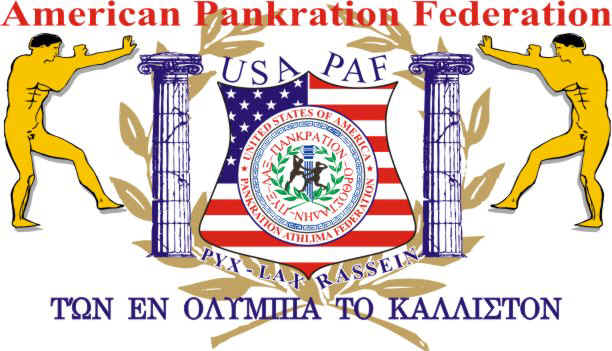 Brazilian challenger Anderson (The Spider) Silva (on right) stopped champion Rich Franklin at 3:59 of the first round to claim the UFC middleweight title in dominant fashion at UFC 64: Unstoppable. Silva (16-4) handed Franklin only his second losses in 24 mixed martial arts fights by softening him up with a series of devastating knees to the body while in a Muay Thai clinch. When the champion brought his hands down to protect his body, Silva went high and rocked Franklin with knees to the head before referee (Big) John McCarthy stepped it to stop the punishment. "I'm here to stay," Silva said via an interpreter after the fight. The loss came in Franklin's first action since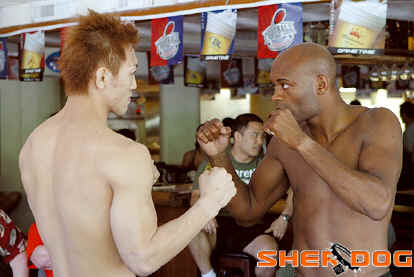 March when he broke his hand in a lopsided five-round decision over Canadian David Loiseau. In the other title fight of the night, Sean (Muscle Shark) Sherk won the vacant lightweight (155-pound) championship in a dominant, bloody five-round decision over Kenny Florian. Florian cut Sherk's temple open with an elbow in the second round but Sherk's wrestling skills allowed him to control the fight via ground and pound. Sherk's cut bled profusely for the rest of the contest but Sherk controlled the action and, in the final round, bounced Florian off the canvas like a rubber ball. In other undercard action, UFC newcomer Carmelo Marrero used his superior wrestling skills to negate the striking power of French heavyweight Cheick Kongo for an upset win via split decision. SAKAI, Osaka — Some of the world's top female sumo wrestlers grappled it out on aclay dohyo in the world sumo championships. Japan's Rie Tsujihiji, a powerhouse in women's sumo, was among the competitors, taking on women from all over the globe. She led Japan to second place in the team event. Also competing were amateur male grapplers, who battled out the sumo world champion-ships. Russian wrestlers dominated the individual events, defeating Japanese grapplers in all four semifinals. In the team event, Japan finished second, falling once again to the Russians, who won their first world title.
Cleveland, Ohio - A South African martial arts and oriental weapons specialist has been inducted into the World Martial Arts Hall of Fame. Master Suliman "Solly" Said of Johannesburg received the honour in Cleveland, Ohio,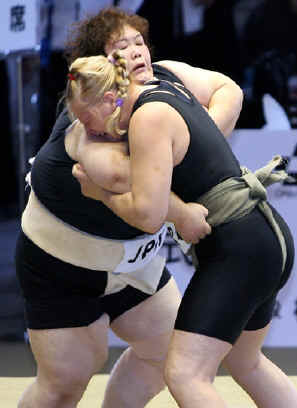 last month. He also earned the warrior title of Hanshi, meaning learned scholar and model instructor, placing him among the elite martial artists and instructors in the world. The honour was based on his 41 years of study and promotion of martial arts, his 8th Dan ranking and appointment to Professorship in Martial Arts and Sports Medicine, which is unparalleled in South African karate. "I have been living a dream and have always been passionate about the arts and people. To me, this is both my avocation and my vocation," he said. Said, 54, is the first African to be inducted into the SOKE Council, a prestigious international martial arts organisation focusing on masters who have founded a unique style. It has been a long road for Said, who was forced to take up karate to defend himself against bullies in the rough neighbourhood of Ferreira's
Town, where he grew up. He began karate lessons when Farid Majid, a martial arts expert who had done karate with Japanese sailors in Cape Town, moved into the neighbourhood and formed the Central Islamic Youth Organisation. His club adopted the fighting style of Mas Oyama, a Japanese karate master. "Oyama became my hero. He took the arts to new heights in terms of physical prowess, and in one blow could kill a bull! My dream was to meet him and spend my 21st birthday in Japan," said Said. He worked as a draughtsman and travelled to England, America and Japan, where he studied to become a martial arts teacher. At the age of 20, he studied under Tadashi Nakamura, a top Mas Oyama instructor and received a black belt. After obtaining his 2nd Dan in 1974, he returned to SA to open his own martial arts school. He has organised several tournaments to benefit children's homes, the destitute and abused women. At his induction in Ohio, 10 students he took with him took part in the Golden Fist Tournament and came home with gold medals. Sensei Yolinda Strevens, a long-time student and instructor, said: "Hanshi Said has been awarded one of the highest honours of the international martial arts community. We are extremely proud and honoured to be part of this tradition." Photo: Sumo wrestler Rie Tsuihiji of Japan (L) grapples with Anika Schulze of Germany during their bout at Shinsumo (women's sumo) World Championships in Sakai, western Japan, October 15, 2006.
Irvine, California -Nicole Habermehl: The Xtreme Martial Arts "It" Girl (photo top of page 5) Martial Arts Experience: Second-degree black belt in shorin-ryu karate, first-degree black belt in taekwondo, wushu, Xtreme Martial Arts Where You've Seen Her: Performing at Black Belt's 1st Annual Festival of Martial Arts; starring in two student films on the Internet and in a ring-tone commercial featuring rap star Eminem; modeling in the Century Martial Art Supply catalog. Being a martial artist can open doors—and we're not talking about busting them open with a kick. Just ask Nicole Habermehl, (photo top), a Southern California teenager who's already dedicated more than half her life to the arts. Ever humble about her abilities—and the opportunities that have come her way because of them—she knows how lucky she is. After all, not every aspiring competitor gets to have a seven-time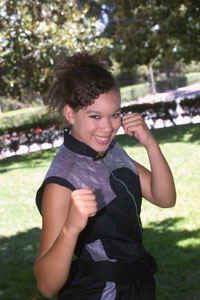 North American Sport Karate Association champion prepare her for her own triumphs on the circuit. While she was training for her black-belt test, Matt Mullins, a fellow Xtreme Martial Arts practitioner, served as her coach. However, it wasn't long before Black Belt Hall of Fame member and NASKA legend Mike Chaturantabut started working with her. "I've been with Mike Chat for a very long time, probably seven or eight years," Nicole says. "I actually had Mike help me prepare for my black belt. After a while, he asked me to be on his team. And Team Chat developed into XMA." The rest, as they say, is history. Now a second degree in karate, Nicole is preparing to test for her third dan. One director who watched an ESPN2 broadcast of the teenager winning the U.S. Open promptly asked her to audition for his feature film, The Honor Student. Other execs have offered her assorted roles in movies and TV ads. The aspiring thespian enjoys the spotlight on the mat and on-screen, she says, and her martial arts training is key to her success in both arenas. "I definitely competed and did more demonstrations once I [joined] XMA," she explains. "I want to use the martial arts not just in competition, but also to see if I can improve other aspects of my life." The arts have helped the California teen excel in a variety of sports, including track and field, gymnastics and ice skating. Even better, the discipline she's acquired through training has boosted her scholastic success to the point where she was able to pass the California High School Proficiency Exam at age 15. ran - set a record after standing fifth and putting an end to a 10-year gold drought in the 18th World Karate Champion-ships in Tampere, south-western Finland. The Iranian team ranked 14th in the 17th edition in Mexico. The fifth title came as it won two gold and two bronze medals in men's event. Italy celebrated the title with five golds, one silver, and one bronze in men's and women's competitions while Japan finished runner-up with an asset of two golds, three silvers, and four bronzes and Spain took the third title with two gold, two silver, and two bronze medals. France stood fourth, winning two golds, one silver, and two bronzes. Hossein Rowhani ended Iran's long wait after he snatched the 60kg kumite title and his teammate Jassem Vishgahi added the second. Rowhani cruised into the final by edging past the karatekas from Qatar,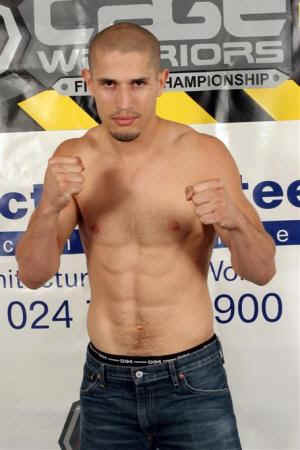 Colombia, Malaysia, Spain, and Tunisia. The Iranian grabbed the glittering gold, the second in Iran's history, after getting the better of his rival from Azerbaijan 4-1 in the final. Mehdi Amuzadeh took Iran's first world gold in South Africa in 1996. Egypt and Tunisia jointly bagged bronze. In the 75kg, Vishgahi white washed the Spanish finalist 8-0. In the 70kg, Saeid Farrokhi from Iran and Japan's represen- tative jointly took the bronze medal.
Bouchelaghem and Radev To Clash For the CWFC Middleweight World Title at Cage Warriors: Showdown 2
A huge all European Title Fight has been announce of the 2nd Cage Warriors: Showdown event on November 19th and Pride Bushido veteran and former Title challenger Gregory Bouchelaghem (photo below) will take on the 2h2h: Road to Japan -93kg winner Jordan Radev for the CWFC Middleweight Title at the Octagon Centre Sheffield. Gregory Bouchelaghem (5-3-0) makes his 4th appearance inside the CWFC octagonal Cage and originally made his name in the UK with a 1st round submission win over Mark Weir at XFC 2 in November 2003. He then went on to challenge Weir's training partner Matt Ewin at Cage Warriors 7, for Ewin's CWFC Title in May 2004. Their clash was an epic battle which saw Bouchelaghem dominate early on but he run out of steam and was stopped in round 4 of a truly epic bout, which is still one of the finest moments in CWFC history. After that loss Bouchelaghem took a year out of competitive MMA action, but rebounded in style upon his return with 3 fine wins over the likes of UFC veteran Ross "The Gladiator" Pointon who he beat at by Rear Naked Choke in May 2005. He then defeated the rangy Robert Michell at Cage Warriors Strike Force 2 in July last year. He then competed the hat-trick by beating UFC and Pride veteran Andrei Semenov via Judges' Decision at M-1: Russia Vs France in November 2005. Jordan Radev is a Dutch based Bulgarian who trains out of the respected Sportcentrum Kops gym in Amsterdam. Radev is known primarily for his striking and crowd pleasing style. Although he is of a stocky appearance and will be giving up some height to the tall Frenchman he has mixed in high company and will not be intimidated by Bouchelaghem's submission prowess.