|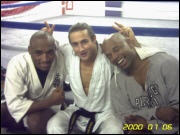 Three of GTT's most promising fighters - Franco De Leonardis, Vlajko Perovic and Jochen Gieb - fought at the annual World Shidokan Open in the Park West Theater in Chicago (USA). This year the Championship was held as an international Team Battle with fighters from Canada, Japan, USA and Germany. Franco De Leonardis, who won the UGC this year for the second time, lost in his match against Canada's Jeff Mrtyniuk via KO in Round 4. Vlajko "Psycho" Perovic fought a hard and very entertaining battle against UFC veteran and former SHIDO MMA World Champion Shonie Carter, but lost by decision after six rounds of Shidokan Triathlon. In his second match Vlajko went for another six rounds against Jan Kazuba (Canada) and lost again closely by points. The greatest upset was the loss of Jochen Gieb against Brad Baker (USA) by points. After Gieb knocked down Baker with a flying knee in the first round and kept the pressure for the entire fight, the american was awarded the unanimous decision by points.
PHOTO: Ortega is "funny" with UFC Veteran Shonie Carter (right) and Shooto Japan Veteran Brian Gassaway (left)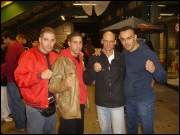 Recently Andreas Beckert of the GTT has fought a Thaiboxing Match against SHI KON Grand Prix veteran Aziz Araiba from Belgium in Villingen-Schwenningen. Beckert, who has fought at the prestigious S1 only two weeks ago showed, that he is the current No.1 of Thaiboxing in Shidokan Europe. With his trademark, the lowkicks, he controlled the strong fighter from Belgium and earned a unanimous decision after three rounds.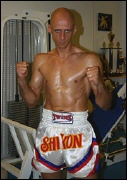 GTT's most successful Thaiboxer Andreas "Iron Man" Beckert has been invited to participate at the European Grand Prix of S1 World Championships in a high caliber 8-Man-Tournament. His opponent in the quarterfinals was the current No. 1 in the WKA World Rankings Steve Neumann from Germany. Andreas managed to outpower the aggressive Neumann in all three rounds and earned a unanimous decision after three crueling rounds to get the win. Due to his injuries he could not continue in the semifinals, but we send our congratulations to Andreas who gave an impressive debut at S1.
Some of GTT's finest competed at the "SHI KON Fight Night in the Deutenberghalle in Schwenningen (Germany). Vlajko "Psycho" Perovic fought a hard and brutal battle in Thaiboxing with Sergej Krutsch (SHI KON Fight Club Schwenningen) and won in round 3 by TKO. Andreas "Iron Man" Beckert managed to defend his European SHI KON Thaiboxing Grand Prix Title -72,5 kg against his first opponent from Belgium in the semi-finals by a TKO in round 2. His final opponent Gulbey Goc from France couldn't fight in the finals because of a broken foot and so Andreas was unfortunately awarded the victory by walkover. Jochen "OG" Gieb and Thorsten "German Oak" Kronz battled in a Heavyweight Thaiboxing Superfight, but Jochen made quick work and finished the fight in round 1 with a low-kick KO. The main event of the night was the SHIDO MMA Welterweight Title Match between Peter "Yamatodamashii" Angerer and Massimiliano Constanzi (Mariani Gym/Italy). Yamatodamashii started the fight with his signature move, when he came out of his corner with a flying punch that stunned Constanzi immediately. Peter took Constanzi down with a textbook Low-Kick and rained down heavy leather from the Side-Mount. When Constanzi tried to roll out Peter got his back and finished the fight with a hard series of punches, which knocked out Constanzi and secured Peter the title after only 26 seconds in the first round
.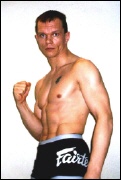 GTT's icon Peter "Yamatodamashii" Angerer teamed up with the best trainers available in Germany to prepare for his upcoming fights in England and Switzerland "The two GTT Trainers Mr. Artur Allerborn and Mr. Mathias Werner currently work two to three times weekly on my skills and I already feel that I become better and better. But I also have a mental trainer for the upcoming fights. Mr. Horst Oswald, a martial artist by himself, offered me his generous support in mental training to prepare me for my upcoming challenges. I am really very happy, that these people support my goal to become SHIDO MMA World Champion again!" states the 36 year old Angerer. And it looks like, the work has paid already, as the fighting phenomenon has submitted Nenad Brezovec in a Submission Wrestling match at the German SHIDO MMA Grand Prix last saturday in only 25 seconds!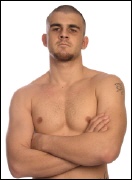 ENGLAND - Didi El Loco (PHOTO) has fought against Hassan Muridi (England) at UFC Veteran Ian "The Machine" Freeman's "Pride&Glory III" in Newcastle. Didi did a great fight, exchanging big bombs with the strong Muridi, who controlled the ground game. After three round Muridi was declared the winner by unanimous decision.
Andreas Schmidt and Franco De Leonardis win at UGC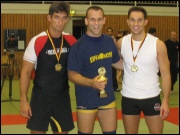 With a tremendous performance and unbeatable submission skills two of the German Top Team have won at the Ultimate Grappling Challenge V in Cologne/Germany: Andreas "Andyconda" Schmidt and Franco "Ortega" De Leonardis proved to be the best of the best at this day in Europe's toughest Submission Wrestling Competition: the annual Open European Championships without any time-limits! "Andyconda" remains top in Europe with a still unbeaten record in UGC History, winning the -87,9 kg division and the Absolute Class for the fourth year in a row by submitting all of his opponents from USA, Poland, Switzerland and Germany. The Luta Livre Black Belt is now a 8times unbeaten European Champion in both divisions! Also in the -76,9 kg division his team mate "Ortega" showed superior submission skills by defeating all of his opponents by tap-out on the way to his first UGC Title. Congratulations to both fighters of GTT!
PHOTO: Andreas "Andyconda" Schmidt (center) is now a 8time unbeaten UGC Champion in Submission Wrestling