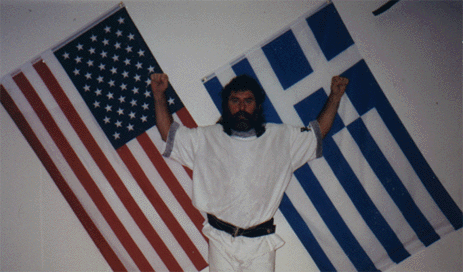 Kratios' Professor Vasilios Katsaitis, I` 10 th Degree
In 1961, he began training martial arts, giving him over 47 years experience and 33 years in his professional teaching career. He is the father and founder of the Hellenic Martial Arts system known as OTHROSTADIN PYX- LAX RASSEIN PANKRATION, (Pyx- Lax Pankration) is world renown for his international instruction, including hall of fame recognition. Our system dates back to ancient Hellenic competitions and self- defense techniques, with an emphasis on total combat self defense using the eight points of circle fighting. This is modern day training. This includes Forms and Basics ancient Greek Boxing, kickboxing, grappling, throwing ground and self-defense techniques, incorporating many uses of hand and leg striking and locking. Offensive techniques include fists, open hand combinations, high and low kicking, flip techniques, and cardiovascular exercise. Using a belt system for promotions, we emphasizes basics, forms, flexibility, balance, focus, discipline, courage, meditation, and many other attributes of the martial arts, thus creating a Healthy Mind and a Healthy body. This is Pyx-Lax Rassein Pankration.
The Pankration to Day
Style, Name: Orthostadin Pyx-Lax, Rassein Pankration In defining a martial arts revolution, Kratios Vasilios Katsaitis, developed his own style of Orthostadin Pankration, Pyx Lax Rassein traditional martial arts System, Forms, Basics, of Boxing, Kickboxing, Throws, Locks, Pressure Points, and important defense Wrestling moves, Locks, Release Locks and Submission and including open hand, fist, head strike, knees, elbows, kicks, throws, locks and escape body moves. These are the moves of Orthostadin and Kato Pankration, standing and on the ground techniques. This system teaches the 8 point circle, body and Hand to hand Army Combat Street Defense, and the Athletic Competition Way.
The style of Pyx Lax Rassein Pankration can be seen in familiarity in Chinese styles called Sholin Kung Fu Boxing and Shuai Chiao and from Japan, Karate and Jiu Jitsu and in the Western Continents a combination of Kickboxing and grappling, and Steet Defense.
Pankration is one of the oldest ancient styles 10,000 to 12.000.BC. This was the last known written information. In 1987 Kratios started to develop Pyx Lax Rassein and in January 1,1993 is started to teach. Pyx Lax Rassein is the branch from the Pankration tree and the Pan Ancient Olive Tree "This tree was planted from the belly button of the earth" The branches of the Pankration Tree is now an umbrella around the earth. The Hellenic Way.
Founder: Kratios Vasilios Katsaitis. The style of Orthostadin Pyx- Lax , Rassein Pankration
Also the National/International Founder/Executive Director of The Cosmopolitan Florida Hall Of Fame and Founder/Executive and Technical Advisor of the American Pankration Athlima Federation and the World Pan Hellenic Martial Arts Foundation
Katsaitis Pankration Academy/Mind Over Matter Hellenic Martial Arts Academy: Plantation, Florida 33317 U.S.A. Tel. (954) 587-657-3740
Email: pyxlaxpankration@msn.com
Class: The Journey to the Ultimate goal begins with one STEP, at the Home Of The Spartans, The Palestra of The Spartans: The Katsaitis Pyx-Lax Rassein Pankration Academy. Here you will learn:
Don`t Be A Victim of Violent Crime, Learn Proven Methods of the Hellenic Martial Arts, Pyx Lax,Rassein Pankration.
· Learn the Ancient Hellenic Secrets.
· Build Body, Mind and Spirit. Develop Self Confidence, Weapons Training, and Street Defense Attack. Basics, Forms.
· Pankration Karate * Kickboxing * JuJitsu * Self Defense * Fitness Cardio Vascular Program
· Lose Weight, Release Stress, Build Confidence.
Children:
· Improve Grades, Learn Self Discipline,
· Improve Concentration, after school Programs, National/International Competition
DAY and NIGHT:
Group, Semi Group and Private Lessons.

Men, Women, and Children Welcome Monday to Saturday

Morning, Afternoon, Evening, and Nighttime Classes
Head Instructor:
Kratios Professor Vasilios Katsaitis I` 10 Degree Pankratista
Black Belt Instructors
Gina Katsaitis - D`,4th Degree Black Belt
Carmen Katsaitis -G 4th Degree Black Belt
Donna Alfredson -G `3rd Degree Black Belt
Pankratistas:
John Ioannou
2nd Degree
Jaime Herrera
2nd Degree
Harold Bailey
2nd Degree
David Portalatin
1st Degree
Dimitrios Katsaitis
1st Degree
Kostandina Katsaitis
1st Degree
The main academy is located at:
MIND OVER MATTER HELLENIC MARTIAL ARTS ACADEMY
Plantation, Florida 33317 USA
Telephone:
(954) 657-3740
Email: pyxlaxpankration@msn.com