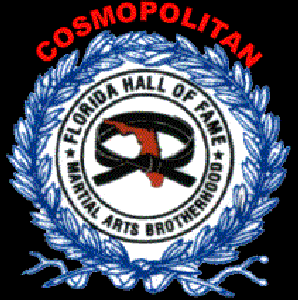 The Karate Voice
Cosmopolitan
Florida hall of Fame Martial arts brotherhood
The Cosmopolitan Florida Hall of Fame Martial Arts Brotherhood proudly nominates the following award recipients on this date of December 7, 2002 at the Ramada Inn, located on Miami Beach. The dinner was a success with a gathering of more than 100 nominees and over 250 guests. Everyone had a wonderful time, with the evening consisting of demonstrations, shows, and even an extremely talented belly dancer.
After the director and new board members recent decision, this cosmopolitan event will now take place in Orlando every year. The next cosmopolitan Florida Hall of Fame event, will take place on . The event location is at GayLord Plams Resort and Convention Center 6000 west Osceola Pkwy Kissimmee Florida 37046.
Hotel Information 407-586-2000 www.gaylordhotels.com
Kratios GrandMaster Vasilios Katsaitis -10th Degree
Founder/International Director of
The Karate Voice
Cosmopolitan Florida Hall of Fame -
Pyx-Lax Pankration - Founder
Florida, USA
BOARD MEMBERS 2003
PROFESSOR PETER URBAN
PROFESSOR RICK RICCARDI
SOKE EDWARD BADIANG
GRANDMASTER JOSE GUILLERMO SANTIKO
SIJO BILL DROUGAS
PROFESSOR AMIN HASSAN
GRANDMASTER FRANK KUSHNER
GRANDMASTER JIMMY STEGER
GRANDMASTER RICH ALFORD
GRANDMASTER JUNG SHEE LACY
MASTER HERBIE THOMPSON
MASTER BOB OSTOVICH
MASTER CARLOS S. VELEZ II
If you would like to introduce and nominate someone to be inducted into The Karate Voice Cosmopolitan Florida Hall of Fame / Martial Arts Brotherhood, the nominee must be of good character and reputation and his or her resume will be reviewed by the board of directors.
You can send info to:
The Karate Voice
2728 West Davie Blvd.
Fort Lauderdale, Florida 33312 USA
(954) 587-5008 - Fax (954) 587-5009
---
COSMOPOLITAN
FLORIDA HALL OF FAME MARTIAL ARTS BROTHERHOOD
PREVIOUS AWARD RECIPIENTS
Deceased: Grandmaster Frank Ruiz, Grandmaster Eddie Ramos, Grandmaster Tom Dunne, Grandmaster Shoshin Nagamine, Grandmaster Masutatsu Oyama, Grandmaster Don Nagel, Grandmaster Thomas Carroll (LaPuppett), Professor Florendo Visitacion, Shihan Professor Antonio Pereira, Walter J. Belleville, Grandmaster John Pachivas, John Shaffer
For Hardship: Mr. Jimmy Colombo
The Grand Patriarch: Professor Peter Urban
Founder/Pioneer: Grandmaster John Pachivas, Grandmaster John Pellegrini, Grandmaster Vincent Marchetti, Professor Rick Riccardi, Grandmaster Wilfredo Roldan, Sijo Bill Drougas, Soke Bill Klase, Sifu John S ha ffer, Grandmaster Richard Alford,Professor John Chambers, KRATIOS Master Vasilios Katsaitis, Soke Michael McGann, Soke Edward James Badiang, Grandmaster Jody Paul, Grandmaster Dusty Lee Johnson, Master Larry Pizzi, Master Bob Ostovich, Master Ernie Reynolds, Grandmaster Frank Sanchez
International Pioneers: Grandmaster Danny Ortiz, Master Carmelo Munet, Grandmaster Santiko- Golden Lifetime Achievement Grandmaster Andrew Linick, Grandmaster Caeser Carbana, Master Herbie Thompson, Kyoshi Adolfo Ennever- Lifetime Achievement-Master Fr an k Ramirez
Grandmaster of The Year: Grandmaster Professor Richard Sinclair Sr., Grandmaster George Alexander, Grandmaster Glenn Wilson, Grandmaster Simeon Zahopoulos
Granmdmaster of the Hellenic Martial Arts Pankration: Grandmaster Simeon Zahopoulos
Silver Lifetime Achievement: Grandmaster Ed Brown, Dr. Dennis Tartakow, Dr. Philip Chenique, Master Joe Williams, Master Bram Frank, Master Richard Ross, Master Greg Lee, Master Tullio Gianella , Master Robert Schoolnick, Master Peter Kobashigawa, Master Joseph Connolly II
Silver Lifetime Humanitarian: Sensei Leon Axel- Humanitarian- Master Bahiy Muhammad, Sensei Terry Knight
International Master Of The Year: Kyoshi Bill Solano, Master Ricardo Emerson, Abon "Garimot" Baet, Master Raymond Correa, Master Daniel Baez, Shihan Hector Rivera, Shihan Hector Sotomayor, Master Tony Sampayo
Master Of The Year: Master Vincent Sands, Master George Yerolimpos, Sifu John Wai, Master Chris Xtenas, Master Dan Zaino, Master Jack Morris, Master Dan Riley, Master Theodoros Kots op oulos
Woman Of The Year: Sensei Theresa Zaino, Sensei Michelle Bertran, Sensei Abigail Griffin, Master Veronica Walker, Joy Huntley
Martial Arts Editor Of The Year: Sifu Alan Goldberg
Best Martial Arts Cable Network Of The Year: Ron Tramontano
Martial Arts Artist Of The Year: Gina Katsaitis
Master Instructor Of The Year: Kyoshi George Keriopoulos, Master Andy Horne, Shihan Jim King, Master Gary Pointer, Master Eddie Camarena, Professor Richard Mieir King, Master Robert Quinn
Instructor Of The Year: Master Mike Lee Kanarek, Master Johnny Clements, Sa Bum Nim Alberto Friedmann, Sensei Carlos Ruiz, Sensei John Ralston, Sensei Sergio Llano, Sensei David Helmick, Sensei Tim Lay, Sensei Raymond Doucette Jr., Sensei Puanani Badiang, Sensei Vernon Jones , Sensei Lawrence Klarman, Sensei Tony Braun, Sensei John Exum, Sensei Robert Duzoglou, Sifu Scott Heck, Sensei Todd Nellenbach, Sensei Carlos Rodriguez, Sensei Robert Rosado, Sensei Phillip Spears, Sensei Arturo Vasquez
Kickboxing Champions: Mr. Don "The Dragon" Wilson, Mr. Gator Garlin, Mr. Paul Ellis III -Weapons
Forms & Sparring Champions: Master Ron Slinker, Master Walter Lewis, Master Mark Herman, Master Robert Hernandez, Master Lynn Wendall, Ruby Camacho
Male Black Belt Of The Year: Raphael Muniz, Georgios Zerdevas, Anastasios Yiahalis -Pankration Athletes
Female Black Belt of The Year: Elissa Mehlman- Business Man Of The Year: Master Gus Alvarez, Master Daniel Maza
Business Woman Of The Year: Master Lynn Chung School Of The Year: John Exum & Tony Braun- Karate America
Best Showman Of The Year: Master Lee Barden- Promoter Of The Year: Dan & Theresa Zaino, Kyoshi Bill Solano
Goodwill Ambassador To The Martial Arts: Carlos S. Velez II
Greek American Media & Communications Of The Year: Mr. George Calonaros-Jr.
Black Belt Assistant Instructor of The Year: Sensei Rich Chapman, Sensei Wayne Gichie
Black Belt Contributions To The Youth Of America: George Travis
Black Belt Youth Competitor Of The Year: George Turini III, Eli Thompson, Nick Begley, Nikolaos Anastasiadis, Michael Allen Cohen, Nathan Austin Belleville, Tyri Pearson, Zak Bernier, Steven Graham, Ienlydif Torres
Outstanding Youth Competitor Of The Year: Mike Anderson
Student Of The Year: Rex Sheppard, Mindy Snyder
Martial Art Writers Of The Year: Gina Katsaitis, Carmen Katsaitis, Carlos S. Velez II, Jung Shee Lacy, George Orr
Contributions To The Martial Arts: Master Ernie Lopez, Mr. Chip Post, Diane Reynolds, Grandmaster Jack Stern, Sensei Melville Giche
Photographer & Reporter Of The Year: Bart & Peggy Cohen
Parents Of The Year: Tasos & Liz Anastasiadis, Bart & Peggy Cohen, Shihan Jim and Amy Anderson
Honorary Members: Sandy Packer, Teresa Sainz, Lola Mae Burns, Susie Klebe, Christine Webb, Kim Haley, Nancy Trapp, Mary Farley, Julie Morgan & Marcia Clifford
All individuals that are acknowledged on this page that have a website are asked to email us their URL, so that we can place a link to their page on our site.